Roll over or click image to zoom in
Evoluderm Irresistible Cacao Nourishing Hand Cream - 150ml
Specially formulated to take care of very dry skin, this hand cream is enriched with Cacao Butter to intensely nourish and repair the skin.
PRODUCT DESCRIPTION
Made from 96% natural ingredients and specially formulated for very dry skin, Irresistible Cocoa Nourishing Hand Cream is enriched with Cocoa Butter and Glycerin for an instant nourishing action. Offering comfort and nutrition, Cocoa Butter draws its strength from the bean from which it is extracted. Antioxidant, it has many virtues. This natural ingredient with an irresistible fragrance slows down the first signs of ageing, tones the skin and soothes it. Glycerin is a protective agent that protects the skin from drying out. It guarantees the maintenance of its hydration* by forming a protective barrier. The ultra-rich formula of this vegan hand cream with delicately chocolatey notes penetrates instantly without leaving a greasy or sticky film on the skin. Its generous 150 ml size allows you to take care of your hands without moderation. Result: deeply repaired, your hands regain comfort and beauty from the first application. *The upper layers of the epidermis.
Let's take care of the planet... This tube is 100% recyclable and made in France. Throw it away, it's recycled!
BENEFITS
Hydrates

Non-Oily

Nourishes
OUR ADVICE
Apply a small amount of the cream and massage gently until it is completely absorbed. Repeat as many times as necessary throughout the day.
PROVEN RESULTS :
Moisturises the skin and provides a feeling of comfort:

 

100%.
Softens, smoothes and regenerates the skin:

 

100%.
Protects hands from external aggression:

 

100%. 
Nourishes and prevents the skin from drying out:

 

100%.
Does not leave a greasy film on the skin:

 

100%.
Rapid product penetration:

 

95%.
Pleasant scent:

 

100%.
% satisfaction - 22 subjects - 3 weeks
How to use it?
1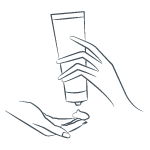 Dispense a small amount of cream into the palm of your hand
2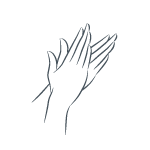 "Apply by massaging into skin until fully absorbed, paying particular attention to the cuticles.